Survivor Voices & Resources
What is the Survivor Voices Series?
While our commitment to advocating for and supporting child victims & their families will always be our number one focus, we recognize that our child victims grow up and become adults who still need our support.
In honor of all adults who have experienced child abuse, we introduce our adult survivors resource page: a new way for adult survivors of child abuse to share encouragement and experiences, find support, connect, and lend their voices to help raise awareness to help end child abuse.
On this page, survivors can:
Support children just beginning their healing journey with words of encouragement
Help change the way people think about, talk about, and respond to child abuse
Suggest additional songs to a Survivor Voices Playlist
Anonymously share personal experiences
Get information about our Inner Child Exploration meetings
Learn about other resources for adult survivors of child abuse
Listen to the CAC Podcast (coming soon!)
Support Children:
Hearing from others who have experienced similar situations can be a huge support for children still in the care of their abuser(s) or those who have recently left their abuser(s). Sharing encouragement lets them know they are not alone, that what is happening to them is not their fault, and, best of all, that they will have a life past what has happened to them.
The ACCAC is collecting words of encouragement for the kids who come to our center. We will publish anonymous quotes gathered from survivors and supporters in a small book that will be provided to every child that comes through our doors. We hope you will participate by submitting your encouraging words for our kids here!
Help Change the Way People Talk About Child Abuse:
The ACCAC recently began featuring a series of Survivor Voices social media posts, led by a brave young woman who asked to share her experience to help others. With permission, we are using anonymous quotes from experiences of adult survivors to help people realize the true impact of child abuse.
If you would like to anonymously share parts of your experience to help raise awareness about the real human cost of child abuse, click here for the submission form.
Below are a few examples of social media posts designed from the brave survivors who have already shared their experiences with the ACCAC.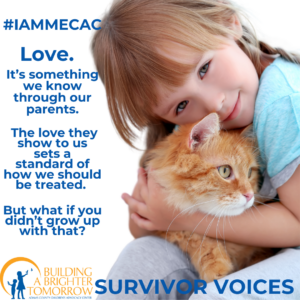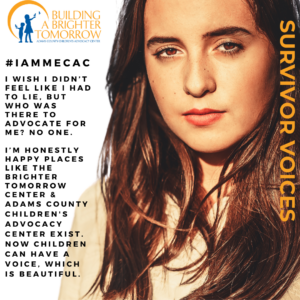 Suggest Songs for the "Survivor Voices Playlist":
Music can be incredibly healing during difficult times. We are asking survivors and supporters to suggest songs for our playlist that will be shared with children and adults in need of encouragement and healing. Take a listen below! As we receive song suggestions, the playlist will continue to be updated.
To share a song, click here for the submission form.
Share Your Personal Experience:
Each person heals differently and on their own timeline, but knowing others are going through similar situations and have felt what you feel can help children not feel so alone in their healing journey.
If you choose to share parts of your experience, we respect and honor the effort it takes to do so and are here to support you. You may choose to share anonymously and can also choose how & where your experience is shared. You can even share your experience and choose to not allow it to be shared at all.
To get started, click here for the submission form.
Inner Child Exploration Meetings:
You're invited to an educational support group for adult survivors of child abuse, their spouses, and/or their caregivers. Combining self-exploration and creative art, this group recognizes the impact trauma has on multiple aspects of life and focuses on promoting healthy coping, healing, and wellness for you and your family. Each session is led by trained therapists and Child & Family Advocates.
The Spring 2023 series runs the first Saturday of the month for 3 months: April 1st, May 6th, & June 3rd. Register here!
Fall 2023 & Winter 2024 dates to be determined.
Listen to the CAC Podcast (Coming soon!)
How does child abuse affect adult survivors?
As we talk about adults as survivors, it is important to acknowledge the prevalence of adults surviving childhood abuse and the impact the traumatic experiences can have on their lives:
About 66% of American adults report having experienced at least once Adverse Childhood Experience (ACE) and 12% report experiencing at least 4 ACEs. 1

Each ACE a person experiences, increases their risk of attempting suicide by 2-5 times across their lifespan. 1
Women experiencing 5 or more ACEs were found to be 4.4 times more likely to experience depression in adulthood. 1

Early maltreatment creates long-term negative effects on the brain's development and structure.2
About 1 in 5 women have experienced childhood sexual abuse(CSA). 3
Adult survivors of childhood abuse are 4-5 times more likely to abuse drugs and/or alcohol, 2 times more likely to smoke, more likely to be physically inactive and experience issues with weight.3
Women who have experienced CSA are more likely to experience sexual problems (pain, STIs, gynecologic issues, etc.), less likely to seek gynecological health care, and less likely to seek prenatal care.3
Through the Help for Adult Victims of Child Abuse survey, it was found that about 45% of victims do not disclose their abuse until they are adults.4

All respondents in the survey indicated they are still affected by their childhood experiences.
Resources
We know it may be difficult to find resources specifically for adults who have survived child abuse. We have compiled a list of resources that may be helpful for adults working through their healing journey. Click below to learn more about these and other resources.